BEAR Program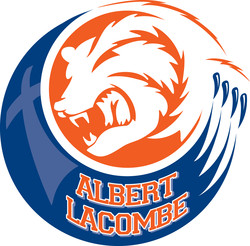 Our Albert Lacombe students are BEARS, striving to meet our school-wide expectations of:
 Belonging
 Excellence
 Accountability
 Respect
 Safety
Everyday, Albert Lacombe students are encouraged to show Belonging, Excellence, Accountability, Respect and Safety and recognized for doing it! 
Our BEARS are continually learning to enjoy working with a variey of people and to be kind, caring, contributing members of society.  Receiving positive recognition for their efforts from our staff members encourages them to persever!  These qualities will assist them at school, in the workplace and in Life!
Partnerships with parents are vital to our work at Albert Lacombe.  We encourage frequent communication through personal contact, phone calls, E-mails, teacher websites, parent-teacher interviews and school events and activities.  Our school community benefits from an active parent School Council and a dedicated group of volunteers.  Our teamwork is so valuable to supporting our students!
We are proud to serve the school community of Albert Lacombe Catholic Elementary School.  Questions, comments and concerns are invited and welcomed.  We enjoy hearing from you!