About
Grades Taught
Kindergarten - Grade 6 (English)
About
Welcome to Albert Lacombe Catholic School!
Principal
Mr. Allan Menduk
Administration
Principal: Mr. Allan Menduk
Vice Principal: Mrs. Lindsey Pratt
Sports Academy Facilitator: Mr. Geoff Giacobbo
Motto
What Starts Here Changes the World!
Albert Lacombe School - A Snapshot!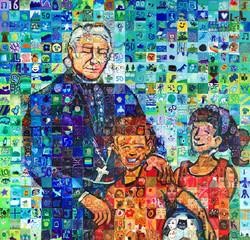 Welcome to Albert Lacombe Elementary School
English Instruction, Grades K to 6, Sports Academy
School Hours: 8:25 am - 3:00 pm 
Serving the St. Albert areas of Grandin, Heritage Lakes, and downtown St. Albert communities.
Mission Statement:
WHAT STARTS HERE CHANGES THE WORLD
Student Population: 247
Albert Lacombe Catholic Elementary School welcomes families who desire a faith-based education for their children, with a strong focus on accommodating student needs.  Encouraging a love of learning is part of all we do at Albert Lacombe.  Our staff members work to engage students in their learning to develop their talents and strengths, and build upon their interests.
Our student population is comprised of many active, curious learners with diverse learning needs.  Our teachers see this as a positive aspect of learning, and build upon it by using a wide variety of teaching strategies to meet student needs:
 individual program plans, as needed
 frequent hands-on learning opportunities
 appropriate use of technology to support learning outcomes
 individual, partner and group work
 classroom environments and equipment that accommodate movement and activity.
Our school mission statement, selected by our students, parents, and staff, is WHAT STARTS HERE CHANGES THE WORLD.  We work to live our faith in all aspects of school life.  In addition to Religion classes, students are encouraged to explore the messages of Christ in other subject areas, and to practice their faith on the playground, in the hallways, and beyond the school day. 
Everyday, Albert Lacombe students are encouraged to show Belonging, Excellence, Accountability, Respect and Safety and recognized for doing it! 
 Our Albert Lacombe students are BEARS, striving to meet our school-wide expectations of:
 Belonging
 Excellence
 Accountability
 Respect
 Safety
Our BEARS are continually learning to enjoy working with a variety of people and to be kind, caring, contributing members of society.  Receiving positive recognition for their efforts from our staff members encourages them to persevere!  These qualities will assist them at school, in the workplace, and in Life!
Partnerships with parents are vital to our work at Albert Lacombe.  We encourage frequent communication through personal contact, phone calls, E-mails, teacher websites, parent-teacher interviews, and school events and activities.  Our school community benefits from an active parent School Council and a dedicated group of volunteers.  Our teamwork is so valuable to supporting our students!
We are proud to serve the school community of Albert Lacombe Catholic Elementary School.  Questions, comments, and concerns are invited and welcomed.  We enjoy hearing from you!
View our School Handbook