50th Anniversary Mural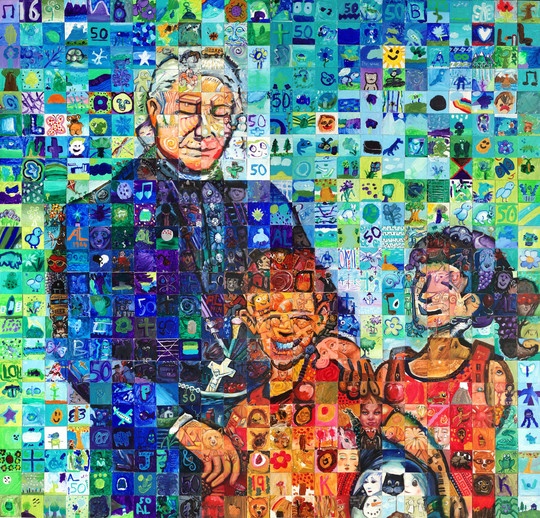 As part of our 50th Anniversary Celebrations, Albert Lacombe Catholic Elementary School students and staff joined with former AL students and artists, Lewis Lavoie and Phil Alain, to create an artistic mural.  Each student, staff member and special guest contributed an individual tile, which will create an overall image as a tribute to our City founder and school Namesake, Father Albert Lacombe.  Our students also hosted many special guests in their painting sessions, including Mayor Crouse, former AL staff members, members of SEEALS and School Council, Father Ignacy, Trustee Serena Shaw, Father Mike Dechant, and representatives of Greater St. Albert Catholic Schools.  We were especially pleased that Father Ignacy and Father Mike could join us as the latest members of the Oblate Order to continue the legacy of Father Albert Lacombe.  We look forward to seeing the final Mural Mosaic, a tribute to the faith roots of our community, which will be placed on the front exterior of our school for all in the neighbourhood to enjoy!  Thanks also to the City of St. Albert and the Games Legacy Grant for assistance with funding. 
Register now for Sports Academy 2015-2016
We are currently accepting registrations for Hockey, Soccer and Gymnastics-Cheer-Dance.  Get your registrations in early!  Contact Geoff Giacobbo at 780-459-4478.
Register for Kindergarten!
We are now accepting kindergarten registrations for 2015 - 16 school year.  In addition to the regular half day program, we are hoping to once again offer full day kindergarten.  We will offer the full day program if we receive enough early registration commitments.  Please share this information with friends and family with kindergarten age children.
Preschool Community Registration Now Open
Click the link to view videos from our 50th Anniversary Alumni
http://site1.al.gsacrd.ab.ca.webguideforschools.ca/home/50th-anniversary-page
Why BEARS?
Everyday, Albert Lacombe students are encouraged to show Belonging, Excellence, Accountability, Respect and Safety and recognized for doing it! Do they show it at home? We hope so!
What would your workplace look like if all of your colleagues consistently demonstrated Belonging, Excellence, Accountability, Respect and Safety? Our focus on BEARS helps our students acquire the skills needed for success in life and in the workplace!
1996 Albert Lacombe Video--check out AL in 1996-Video by Aquilla Productions
This video was professionally produced in 1996 by Don Metz, an Albert Lacombe parent, and President of Aquilla Productions.  Written by Principal, Donna Fedoration, you will see many former students and staff and some current ones as well! Students, check out the vintage computers!